Valentine's Day is coming up very soon, but there's still plenty of time to whip up any number of these quick, free designs to share with the sweethearts in your life. I've compiled a list of ten patterns that can all be made in an evening and don't require a ton of yarn.
Since you've got to love yourself first, I've started and ended the list with two of my very own patterns. Enjoy!
Candy Hearts
is a fun design I whipped up last year. It's an easy pattern that works up quickly with basic stitches, topped off with a little surface crochet to write your message. The hearts can be stuffed for a bean bag, stress ball, or tiny pillow, or you can leave an opening in the seam and fill them with treats for your valentine. Either way they make a fun, quirky gift.
Danish Heart
by Ali Pyper
I love the woven design on these Danish Hearts. I can imagine them as potholders, wall hangings or fancy valentines, maybe with a message tucked in somewhere.
My Foxy Valentine
by Emma Varnam
This cute little amigurumi fox can hold a love letter in his tail. I think it's an ingenious way to deliver your valentine with a gift the recipient can hold onto for years.
Love is Cold Ear Warmer
by Moogly
Cute and cozy pattern with a unique heart design. I really like how the hearts pop, and it sure does look like it'll keep your valentine warm through the rest of winter.
Heart Granny Square
from Petals to Picots
Granny squares can have any number of uses depending on how you seam up the individual pieces. I can imagine a single one of these decorating a card, or many used to make a bag, a scarf, or even a Valentine's afghan (though there probably isn't time to put that last idea together--maybe next year).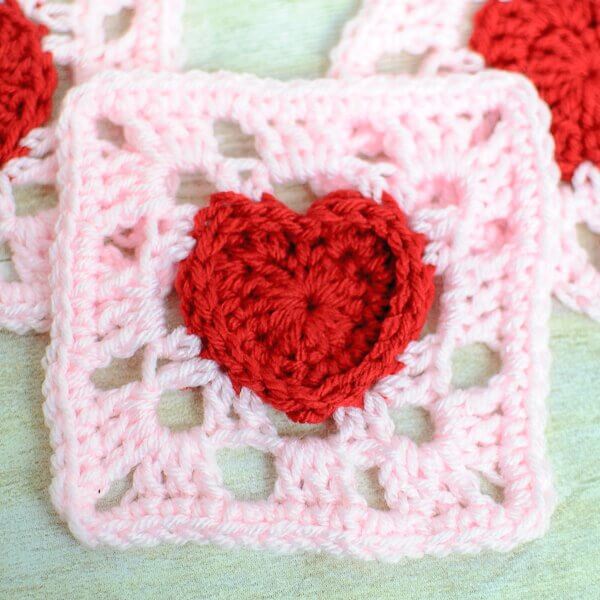 Valentine's Day Mini Treat Bags
from Crochet is My Happy Place
Fun idea to personalize your treats. They remind me of tiny Easter baskets and would be great for children to carry their Valentine's goodies.
Love Bug Amigurumi
by
Heliinä Swerdlyk
I love the quirky-cuteness of this little guy. The heart details in the eyes, wings, and antennas really turn up the volume on adorable.
Hershey's Kiss
by
Heather Jarmusz
A kiss for your sweetheart! What more could anyone want? The simple features of the face are charming, but you could certainly personalize them to be as sweet or saucy as you like.
Valentine's Kitty Hat
by Knot Your Nana's Crochet
Cute and cozy gift for the little ones in your life.The colors and heart detail make this a lovely Valentine's gift, but it's not too cutesy for everyday wear.
Last but I hope not least is another one of my own free patterns, these
Chocolate Candy Earrings
. These are super duper quick to make, but do require a little bit of embroidery in addition to crochet and some glue gun skills to attach the earring backs. One of the fun things about crochet earrings like these is that even when they're very large, they're super light and comfy to wear.








Happy Valentine's Day!