If you're anything like me, about a week out is when you start really thinking (panicking?) about getting together a handmade gift.
Thankfully, there are lots and lots of free or inexpensive patterns you can whip up quickly and easily and that will be sure to make your dad proud.
Moogly
has several lists of free patterns for Dad-day you can find on the blog. I'm partial to this one from last year:
Father's Day Crochet 2014
. That snazzy vest! The too-darn-cute instagram-inspired phone cover! TWO kinds of neck tie! And other than the vest and the throw, they should all work up fairly quickly.
If your dad's a golfing kinda guy, take a look at this year's list, which includes 3 different patterns for golfers:
Father's Day Crochet 2015
Lion Brand offers a classic looking set of
Golf Club Covers
. I like how the simple color changes make them look different, but they're clearly still a matching set. And those numbers are both nice looking and useful!
If your dad is a bit too goofy for that, try this
Tee Bag
pattern by Priscilla Hewitt. It's adorable, unique, and comes with its own pun!
And for the Caddyshack fanatic, Red Heart has a pattern for
Gopher Golf Club Covers
. Too funny!
For the tech lover, try this simple,
Stash Buster Tablet Case
from Habitual Homebody. While great as a stash buster, you could also alter the colors to match your dad's favorite sports team. I'm sure the sizing would be fairly simple to adjust as well.
For a super duper easy gift, try the
Absolutely Easy Glasses Case
by Rachel Choi. Choosing a variegated yarn will give this simple pattern some interest, but it would look good in any color, and it's one of the more practical gifts you could give.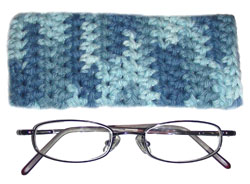 Aaand, for the shameless self-promotion portion of this episode, my very own Power Tie Coffee Cozy pattern can be found in the May issue of
Happily Hooked Magazine
. (There are many other patterns in there too, of course.)
I may be biased, but I think it's pretty cute. You can try the magazine out for just 99 cents, but subscribers do get some special perks like a free coupons for patterns by designers included in the issue, including my very own
Mod Bob
.
That one might not be suitable for dad...unless you're dad is SUPER fun. Then go for it!